Ultimate PINK blog Hop – Coloring and Popping out in PINK!
on
October 8th, 2017
at
6:00 pm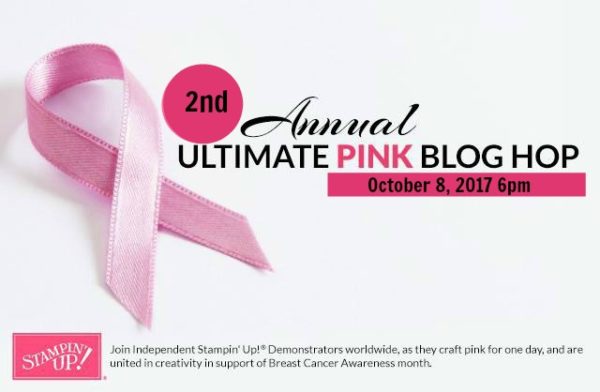 Hi Friends and WELCOME to today's blog hop!
Today we are all showing off our favorite PINK projects since October is Breast Cancer awareness month, of course.
So I expect you are going to see several projects using the wonderful Stampin' Up! Ribbon of Courage set this month.
Well, my card is no exception, but hopefully I am doing a little something different here today.
There is a fun new style of card going around the FB groups called an 'eclipse card'.  But I wanted to do something a little bit different… a DOUBLE eclipse card!
This all started with my normal team gathering and play night, TaDa! Tuesday.  This past week was kinda special because Stampin' Up! has just brought back their version of alcohol markers in our signature color pallette.  These are called Blends, and oh my!  They are fabulous!
So the coloring got started and we all actually got quiet for a few minutes… lol.  Yes, some serious coloring was happening.  The Blends will be available to our customers very soon, so we needed to check them out!
After playing with some old DSP from last years Sale-a-Bration that was made to color in with the watercolor pencils, I was already in love with these super smooth markers and ready to work with something new.
Time to pull out the new specialty DSP called Just Add Color.
These papers are so nice and heavy and super smooth.
The color goes on these papers so nicely… like they made it just to be colored in with these markers.
Hmmmm, maybe they did!
Gotta love Stampin' Up!… always thinking ahead!
So how will I incorporate the PINK into my design?
I decided to cut the big ribbon from the Support Ribbon Framelits Dies out of my DSP before I started coloring.
This will allow me to color it totally separately which works out well for the card in my head.
I chose the design with the leaves all over it, thinking that keeping the number of colors used to a minimum would work well for this design.
The coloring of the base color went so fast!  I went with the light Old Olive marker for the leaves and will got back with the dark to add the shading in a bit.
Then the background was the light Soft Sky.
SO smooth!  I love how there are NO  brushstroke marks with these alcohol markers.
Some subtle shading where I want it, sure, but no pesky lines and the paper won't pill from going over the same spots.
I thought I didn't like to do a lot of coloring… might have to change my mind about that with these new Blends.  
Now it was time to cut the other parts of this design.   I had already cut a couple of the big support ribbon shapes out of some pink fun foam.
You could also cut your pop up pieces from cardstock and layer several pieces to get the height.
Either technique works, but I had some fun foam here already and that is quicker.
Using the Large Letters Framelits,  I laid out the PNK on my focal piece and it was all going to have to overlap a tad.  I laid down one of the pink foam ribbon shapes and cut the letters out of the paper and the pink foam all at once so the letters will fit properly on the card front.
Then cut the letters again out of some black fun foam.  Time to start assembling all the pieces.
Since the background was colored in with a light Pool Party marker, it looked great on a Pool Party card base.
The fun foam glues in it 'holes' easily with the green top multi-purpose glue.  The pink ribbon with the little cutouts fits in to make a solid and smooth first layer.
The colored top letters now get glued onto the top of the black foam, and I offset them very slightly so the word was a little more readable.
Then another pink foam ribbon on top of the first one for the 'double' part of this double eclipse card.
The top ribbon cutout I had colored in using only the Blushing Bride light and dark Blends markers.
Isn't it cool how the design continues on across the card but some is just in PINK?  I just loved that this layer was higher than the letters, too!
This just needed the extra word 'THINK' and I found just what I wanting in the set 'Count My Blessings'.
When you need a special word, remember you can selectively stamp a portion of a word by inking the stamp with your markers.
You have SO many words available to you like that!
So here is my final 'Think PINK' card with the awareness ribbon incorporated into the design.
The letters are readable but subtle, like the eclipse technique is supposed to be.
But the pink ribbon really jumps out at you.
What better way to have folks start to 'Think PINK!'
Now I want to share with you a Breast cancer awareness project that I am involved in again this year.
My friends and fellow demos in the Boston area, Selene Kempton and Tami White, host a 'Stamp Out Breast Cancer' event every year.
I am a little far away from Boston here in NC, but I wanted to help in my own way.
Since another passion of mine is designing fun tees for crafters and their teams,  I design their event tee for them each year and sell it in my Etsy store.
I am giving a percentage of each tee sold to my friends' event to help with their fundraising efforts.
Not only will folks get a great tee and look cute at their own events this month, but that will also be a part of a donation for Selene & Tami's fundraising event!
A true win-win right there!
This year I added the fun phrase 'I Pink I Can' inside the heart and a version of the tee in black.
I know from my cardmaking that pastels really POP when paired with black cardstock, and the same is certainly true of the light pink design on the black tee.
The bling is in Light Pink, because or course we had to have bling on this baby!  BUT, I can leave the bling off if you want or for a tee for that supportive man in your life.  Real men will ROCK a black and pink tee for the cause!
Click on the picture to go directly to this listing to see better or purchase. (thanks for looking!)
Other groups are joining in, too!  Our friend Raquelle Clifton is using this tee for her event in Denver, too.  This is a great tee for ANY of our stamping events to help raise awareness this month.
This is also available in long sleeves in another listing, so look around and see what other designs you might enjoy wearing for your crafting.
The products I used to create these cards are at the bottom of this post.  Thanks for looking and enjoy the rest of the hop!



Product List